Hexbyte – Tech News – Ars Technica |
#GoogleWalkout —

Organizer: "I expect them to meet the demands or be faced with an escalation."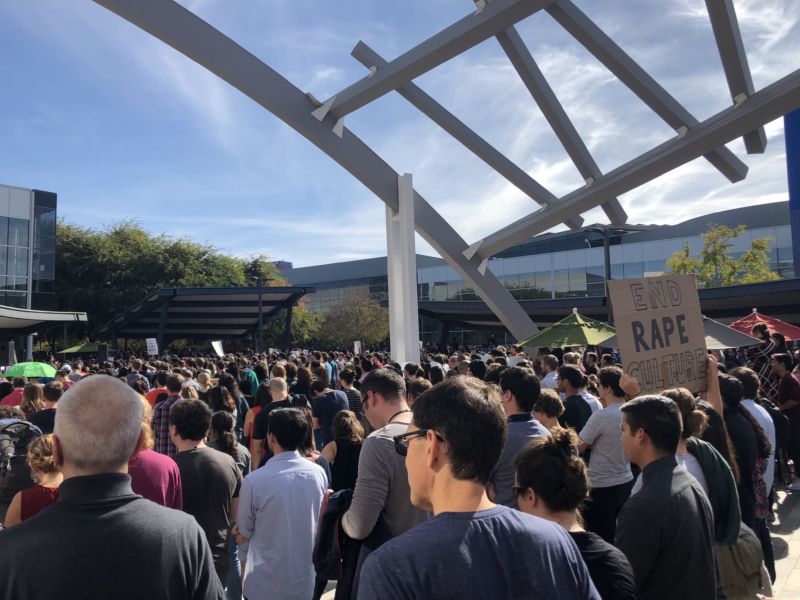 MOUNTAIN VIEW, Calif.—Thousands of Google employees at the company's headquarters walked out of work on Thursday to protest sexual misconduct. Many brought signs that included slogans like "End Rape Culture," "Don't be evil," "Equality for all," "Hey Google, WTF?" and "I deserve to feel safe @ work."
Similar protests took place at numerous Google offices worldwide. The Thursday protests, which featured testimonials by people who say that they suffered harassment and misconduct at the company and were not taken seriously by their superiors, marked one of the most visible instances of Silicon Valley workers protesting in recent years.
Protestors were galvanized by a recent New York Times report that chronicled three top company executives who have received massive payouts over the past decade despite being credibly accused of sexual misconduct.
At 1600 Amphitheater Parkway, Googlers began streaming into the main plaza.

Some Googlers held protest signs.

Organizers lead a march through the campus.

These flyers were taped around the Google campus.

Some protestors shouted, "Time is up!"
On Tuesday, Google CEO Sundar Pichai sent out an email to employees apologizing for the company's inadequate response. He also wrote that the company would take a "much harder line on inappropriate behavior."
However, the company has not said what, if any, concrete action it plans on taking. No executives spoke to the assembled crowd during the Thursday morning walkout.
One of the organizing leaders of the protestors, who requested anonymity, reiterated that the protest was "the beginning."
"I expect them to meet the demands or be faced with an escalation," she told Ars. "I mean, we already proved that we have tens of thousands of employees across nearly three-quarters of Google offices that are prepared to walk out to demand change. The company doesn't work without them."
Hexbyte – Tech News – Ars Technica | Demands
Late Wednesday evening, protest organizers issued a five-point list of demands.
An end to forced arbitration in cases of harassment and discrimination for all current and future employees.
A commitment to end pay and opportunity inequity.
A publicly disclosed sexual-harassment transparency report.
A clear, uniform, globally inclusive process for reporting sexual misconduct safely and anonymously.
Elevate the Chief Diversity Officer to answer directly to the CEO and make recommendations directly to the Board of Directors. Appoint an Employee Representative to the Board.
In December 2017, Microsoft
that it would end forced arbitration, but few if any major tech firms have followed suit.
Arbitration is a private, quasi-legal procedure originally desi