Hexbyte – Tech News – Ars Technica |
dee pee aye —

This year's IMSA championships were sealed over a nail-biting 10-hour finale.
Pipo Derani qualified his Nissan DPi in pole position. It would be an exciting race for Derani and his teammates.


Brian Cleary/Getty Images

The pre-race grid walk was as packed as I've ever seen one.


Jonathan Gitlin

This would be our vantage point for much of the race: thanks for hosting us, Cadillac!


Elle Cayabyab Gitlin

Pre-race fireworks.


Elle Cayabyab Gitlin

Both Mazda RT24-Ps put in a strong performance during the race.


Al Arena/Ignite Media

Cadillac has been the brand to beat since the creation of DPi.


Brian Cleary/Getty Images

I asked Cadillac's Matt Russell about the brand's success with the DPi format. "It hasn't been easy. There are moments where we were really afraid that we could not keep an edge necessarily, and I feel like our teams, our drivers, our strategists, our engineers have earned it everywhere along the way. Our engineers and designers did a lot of early work to make the car fast and efficient," he told me.


Elle Cayabyab Gitlin

Porsche's throwback livery was a big hit with the fans.


Brian Cleary/Getty Images

What a wonderful place to sit for a while and watch racing. This was actually our second visit to the Petit Le Mans; along with a group of friends that would become a race team, we went along in 2009. That year the race was stopped after five hours because of torrential rain. This time, the weather was perfect.


Jonathan Gitlin

Part of the charm of this event is seeing the cars race into dusk.


Brian Cleary/Getty Images

The cars at night are a multicolored light show of LED flashes, reflective graphics, and electroluminescent panels. Plus the occasional burst of sparks when a car bottoms out—the Mercedes AMG GTs were most often responsible, as here.


Brian Cleary/Getty Images

Perhaps the 911 RSR wasn't the loudest car in the race, but its flat-six scream was more distinctive than most.


Brian Cleary/Getty Images

The #86 Acura NSX had a slightly different paint job for Petit.


Brian Cleary/Getty Images

The #3 Corvette carries out a driver change at a pit stop. Jan Magnussen and Antonio Garcia have the odd distinction of having won the championship without actually winning a single race during the season.


Brian Cleary/Getty Images

Ford did its best to keep Corvette from the crown, and the Blue Oval took the manufacturer's trophy in GTLM.


Brian Cleary/Getty Images

I am pretty sure this wrapped Panamera was being used by Radio Le Mans' John Hindaugh during the race week.


Jonathan Gitlin

Renger van der Zande (L) has one of the best names in racing. Jordan Taylor (M) is easily the most irrepressible person in racing. Together with IndyCar driver Ryan Hunter-Reay, they won the 21st Petit Le Mans.


Brian Cleary/Getty Images
BRASELTON, Ga.—The Petit Le Mans is a 10-hour endurance race held each fall at Road Atlanta in Georgia. As the name suggests, it's run with similar rules as the French race that runs for 24 hours each June, which means a mix of prototype and production-based sports cars take to the track at the same time. And although Petit Le Mans was first held just 21 years ago, it quickly established itself alongside events with decades-more history. In fact, it helped revitalize endurance racing, particularly in the US where it gave rise to the series we now know as the IMSA WeatherTech SportsCar Championship.
This year's Petit Le Mans was possibly the best in a decade. In each of the three classes (Prototype, GTLM, and GTD), there were championships to decide. On top of that, the North American Endurance Cup was up for grabs (it's a separate trophy, again for all three classes, scored just at the longer races of the year). And those out of title contention were just going for the win.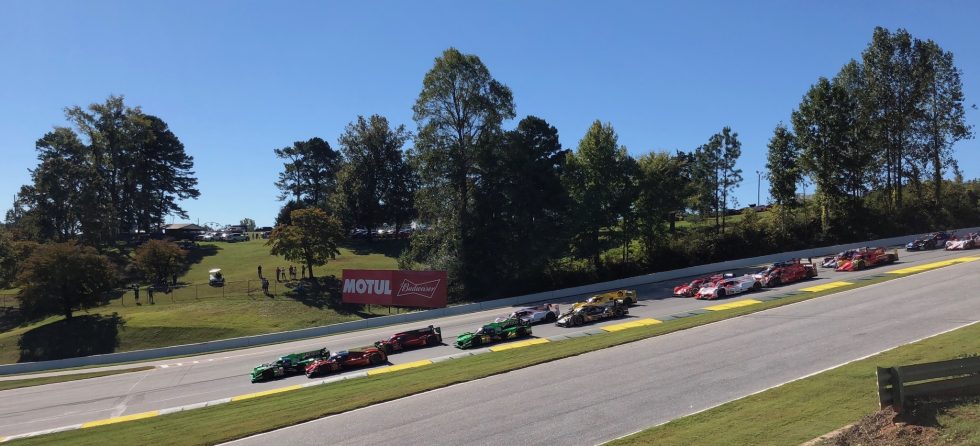 Qualifying is a bit meaningless with such a long race to run, but the field was led to the green flag by Pipo Derani in #22, one of the two black-and-green Nissan DPis. Derani's car was very fast at the start of the race but ran into trouble less than half an hour in with a puncture. The two Mazdas were similarly strong; the team was fresh off a very good race at Laguna Seca that should have ended in its first win, and both Oliver Jarvis (#77) and Jonathan Bomarito (#55) set some blisteringly fast laps.
For a while the prototype race was between the Mazdas and the Penske Acuras, but each ran into problems. The #55 Mazda went from the lead to a lap down after contact with another car. Juan Pablo Montoya had something fail in the #6 Acura as he went through turn 3; the contact with the tire barrier was fixable but only after three hours in the pits. Luckily things were a little less dram