Hexbyte – Tech News – Ars Technica |
SmearX —

"Commercial space companies like SpaceX play by different rules," the op-ed states.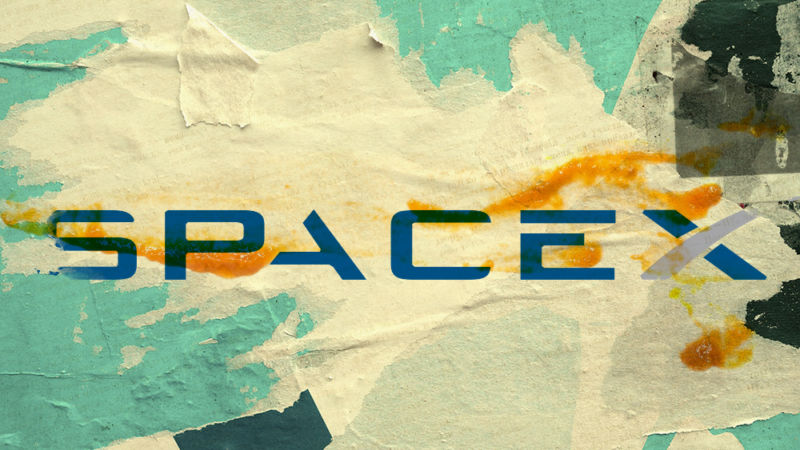 In early August, Boeing's Leanne Caret and SpaceX's Gwynne Shotwell took the stage at Johnson Space Center to announce the first astronauts who will fly on their commercial crew spacecraft. It was a significant moment to see two of the most powerful women in aerospace alongside one another—two fierce competitors coming together for the good of the country.
As president and chief executive officer of Boeing's Defense, Space, & Security unit, Caret said the company took pride in working with NASA and the aerospace industry to bring a human space launch capability back to America. "All of us are here today because we stand for something new and profound," Caret said. "It is personal for all of us in this room, together, returning American astronauts on American rockets from US soil and creating endless possibilities for generations to come."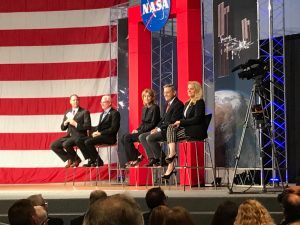 Around this time, half a dozen newspapers across the country—several in key space markets—began publishing an op-ed that criticized the process by which Boeing competitor SpaceX fuels its Falcon 9 rocket. The first op-ed appeared in a Memphis newspaper a week before the commercial crew announcement. In recent weeks, copies of the op-ed have also appeared in the Houston Chronicle, various Alabama newspapers, Albuquerque Journal, Florida Today, and The Washington Times.
Hexbyte – Tech News – Ars Technica | Who placed the op-eds?
All of these op-eds were bylined by "retired spacecraft operator" Richard Hagar, who worked for NASA during the Apollo program and now lives in Tennessee. (Based upon his limited social media postings, Hagar appears to be more interested in conservative politics than in space these days). Each op-ed cites Hagar's work on NASA's recovery from the Apollo 1 fire and the hard lessons NASA learned that day about human spaceflight.
The pieces then pivot to arguing that SpaceX's load-and-go fueling process—in which the crew will board the Dragon spacecraft on top of the Falcon 9 rocket before it is fueled—ignores the lessons that Hagar's generation learned during Apollo.
"It's concerning to learn that some of the newer private space ventures launching today don't appreciate the same safety standards we learned to emphasize on Apollo," the op-ed states. "I suppose for Mr. Musk, inexperience is replacing the abundant safety protocols drilled into us after witnessing the Apollo 1 disaster. Astronaut safety is NASA's number one priority on any space mission. There is no reason it should not be for private space travel, but commercial space companies like SpaceX play by different rules."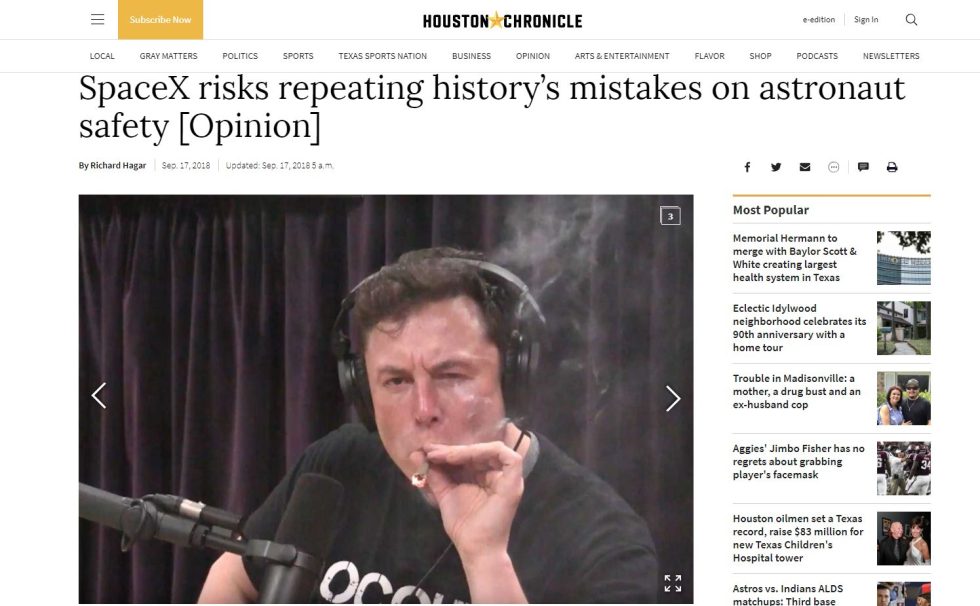 There are some factual inaccuracies here. For one thing, SpaceX does play by the same rules as Boeing for commercial crew—astronaut safety rules that NASA itself wrote. Moreover, NASA has already provisionally cleared load-and-go for Falcon 9 launches that will send the Dragon spacecraft into orbit.
To try to understand his viewpoint, Ars attempted to reach Hagar by phone and email in September. In the course of this process, we learned that he did not actually submit many of these op-eds.
In fact, based upon our research, at least four of the six op-eds that we located were submitted by two people with gmail.com addresses. Their names were Josh Brevik and Casey Murray. Further research revealed that two people with these names worked as "associates" at a Washington, DC-based public relations firm named Law Media Group or LMG. We reached out to multiple editors at papers that ran the op-eds, and they confirmed that no LMG affiliation was disclosed to them. Attempts to reach Julian Epstein, the chief executive of LMG, by phone and email were unsuccessful.
Hexbyte – Tech News – Ars Technica | Who funded the campaign?
According to the LMG website, the 15-year-old firm "develops and executes public-, Hill-, and agency-facing issue advocacy campaigns that shift the narrative in a changing world." More bluntly, the SourceWatch website calls LMG a "secretive Washington DC public affairs firm" with a history of placing op-eds, and it seeks to mask the op-eds' financial sponsors.
This is the homepage for LMG Public Affairs. Note the slogan "Winning the narrative in a changing world" and the first featured narrative (Boeing).


LMG

Here's what LMG, short for Law Media Group, does, according to LMG.


LMG

Here are more featured case studies.


LMG

Boeing's case study involved the KC-46 aerial refueling tanker.